NORTHERN IRELAND POLITICIANS ON FACT FINDING TOUR IN DUBLIN
17 Feb 2012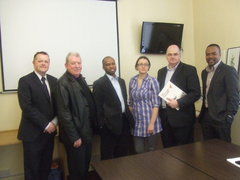 Northern Ireland politicians visited New Communities Partnership on Thursday 16 Feb to view the work of NCP and in particular the programmes promoting integration and diversity at local authority level.
The SDLP politicians viewed the work of the forums that NCP host with the four Dublin local authorities (Dun Laoghaire Rathdown, South Dublin, Fingal & Dublin city centre) where ethnic minorities work alongside various stakeholders within local authorities to ensure that their plans and policies reflect the social, cultural and economic needs of ethnic minority communities living in the borough.
The Belfast politicians, Patrick Convery and Pat Mc Carthy are working on promoting integration, diversity and social inclusion programmes in Belfast city.