Dun Laoghaire Rathdown Ethnic Minority Integration Forum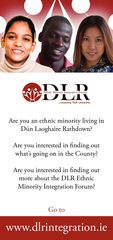 DLR Ethnic Minority Integration Forum will promote integration in the DLR County and work in partnership with others, to ensure the needs of Ethnic Minorities are included in decisions that impact on them.
Aim 1: Act as a voice representing the Ethnic Minority Community in the DLR County.
Aim 2: Be a channel for information and communication for community based groups in the County.
Aim 3: Inform policy and planning at local, County and National level.
Aim 4: Monitor and evaluate the actions of the forum.
Documention