NCP Launches 'A Practical Guide to Assisting Integration for Local Authorities'
16 Aug 2013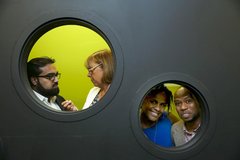 In 2009 the four Dublin local authorities joined with New Communities Partnership to develop a three year programme 'Promoting Civic Participation of Third Country Nationals through Local Authority Platforms' aimed at improving the integration of new communities in their areas.
The publication 'A Practical Guide to Assisting Integration for Local Authorities'  arises from the joint work of the four local authorities of the Dublin region over the past three years.  
NCP hopes in presenting this guide to have made available a useful handbook for Local Authorities throughout Ireland who are striving to pursue integration strategies for all our comunities over the years ahead.
Date: Mon 19 August 2013 - 10 am
Venue: Wood Quay Venue, Dublin City Council Offices, Dublin 8
Launched by: Ms Emer Costello, MEP